Fuel Pressure Regulator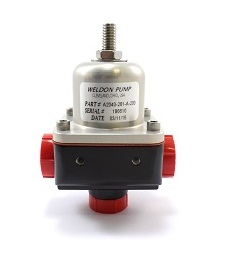 A range of four different regulators adjustable adjustable to cover 4-200 psi, Hardened steel ball and replaceable steel seat, Fluorosilicone diaphragm, Compatible with most racing fuels including ethanol, and methanol.
1/8" NPT Gauge Port, 1/8" NPT manifold pressure reference port, two -10 pressure ports, -8 return port, Replaceable / interchangable internal components,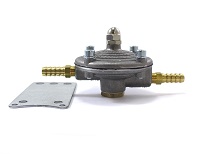 Pressure diecast aluminium body with neoprene membrane suitable for most fuels except methanol. Adjustable from 1.5 - 5psi, 1/8NPTF ports, supplied with 5/16" straight hose tails.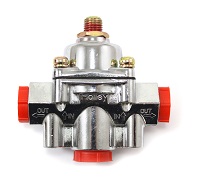 Aluminium body with three ports, one inlet and two outlet. Available in two pressure ranges, 1 - 4psi & 4.5 -9psi.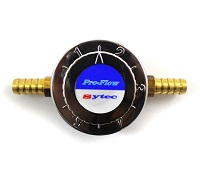 Chromed alloy body with simple knurled dial adjustment for settings between 1 - 5psi. Ports are tapped 1/8NPTF, three different part numbers are supplied with either 1/4", 5/16" or 3/8" straight push-on tails.