Filter Components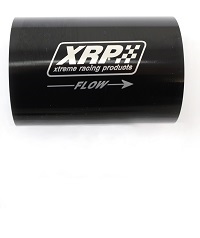 A modular range of in-line oil filter assemblies consisting of a choice of; two filter body sizes, Elements in 4 different micron sizes for each body length which can also be supplied with built-in pressure relief valve. Bodies can be joined to make longer filters. The end caps can be supplied with or without sensor ports and are available with male JIC threads from -6 through to -12. There are -16 and -20 sizes available on request. All assmblies must use the in-line Body Spring part number 704302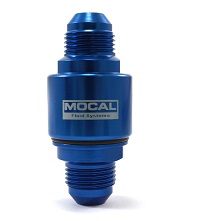 Two part threaded anodised aluminium housings, unscrew to expose removable stainless steel filter, which can be cleaned. Supplied with 120 micron mesh, but 15 micron aerospace pleated filter is stocked, others available.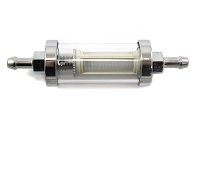 Chrome plated steel end caps, glass housing with 40 micron plastic filter which may be removed for cleaning.
Use on carburettor systems, not above 10psi.

Kits comprising take off / pump cover, remote filter head, adapters and hoses are available for the popular Land Rover/V8 conversion