Electric Water Pumps
EWP� water circulation pump
This exciting NEW concept offers more available engine power, better mpg,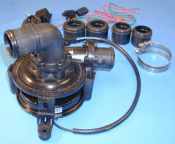 improved cooling with quicker warm up and longer engine life.
It is supplied in kit form to replace existing belt driven water pumps.
Use with an adjustable electronic controller which supplies exact voltage to govern water pump speed to achieve desired cooling requirements.
Owners of older cars with troublesome original pumps have also achieved new found cooling reliability.
The existing belt driven pump is inefficient in that to allow sufficient circulation at low speed, the flow generated at medium to high speeds is not required and is wasteful of engine power as is the energy required to speed up a mass of water through a restrictive radiator during hard acceleration. Water circulation ceases on turn off and engines are often "cooked" by switching off after a high speed run.
The water pump may be fitted in any location where it can be connected into the bottom hose, adapters are supplied to suit various hose diameters.
It is not necessary to completely remove the existing water pump. The pump pulley can be disconnected and a shorter belt used, the pump will then idle and offer no resistance to flow. Alternatively the old impeller may be removed from the shaft.
Performance.

Flow 300-1300 gal(UK) per hour, 20-80 litres per min.
Max pressure 30psi, 2bar. Temp -20to+130oC.
Max current 7.5 amps. Motor life 2000hrs @ 80oC.
Weight 900 grams (2 lbs). Hose size 32-50mm, (1.25"-2")
Small water circulation pump

Nylon pump body with push on connections. Sealed bearing motor with magnetic drive to centrifugal pump.

Use with EWP pump if impaired heater performance is experienced or in LPG installations requiring a heated manifold.
Use as stand alone pump for smaller capacity motorcycle or Karting engines.
Performance

Flow 175gals(UK) per hour, 13.3 litres per min @ 0.1 bar
Max pressure 0.15 bar 1.1psi. Temp -40oCto +135oC
Max current 1.3 amps. Motor life 15,000 hrs @ 80oC

Dimensions

Weight 260 grams (1.2lbs) Hose size
Overall length 4.5",117mm. Diameter 3", 76mm
EWR Electronic Controller
The electronic controller is mounted under the dashboard where adjustment dial can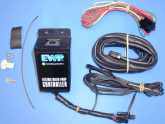 be reached, all wiring and connectors are supplied. The temperature sensor is a thin flexible rod which is inserted into the existing thermostat housing, thermostat itself is removed. Wiring on battery side of ignition switch will allow pump to run on. Comprehensive instructions & wiring diagrams are supplied.
For short duration racing where no alternator is used and current used is of no significance an adjustable thermostatic or on/off switch may be used.
For serious competitors the ability to tailor flow will enable redesign of the entire cooling system resulting in smaller radiators with obvious advantages.
For all competitors the time wasted in taping up radiators to achieve correct temperatures will be a thing of the past.
Last Revised: 16 May, 2001. Copyright Think Automotive Ltd. All rights reserved.