MOCAL tube & fin oil coolers

A more versatile range of oil to air oil coolers than our pressed plate coolers but not as cost effective. Available to special order in 2 tube widths 30mm and 47mm, lengths to suit and heights in increments of approximately 10mm per tube, modest tooling charges are involved.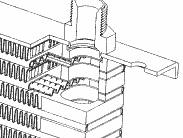 Three sizes are currently available off the shelf.
30mm width:
280mm matrix length x 8 tube (80mm)
547mm matrix length x 12 tube (134mm, no outer tubes)
47mm width:
660mm matrix length x 10 tube (105mm)

Last Revised: 16 May, 2001 Copyright © 1999 Think Automotive Ltd. All rights reserved.