Smooth bore TFE hose and fittings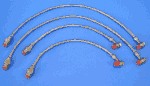 Conventional brake hoses, manufactured in rubber with textile reinforcement, are permitted to have a significant amount of volumetric expansion, that is they swell under pressure, this leads to a soft feel to the brake pedal, acceptable in a road vehicle but not for competition.
On racing vehicles, this has lead to the universal usage of smooth bore PTFE (Teflon ® ) hose with normally a stainless steel. This hose has the added benefit of lightness, strength, high temperature resistance and protection from stone damage.
We call it " Moquip TFE ", Aeroquip " TFE racing hose " or " 2807", Aeroquip Aerospace " 666 ", other brand names are " Speed-Flex ", 600 ", and " 411 ". They can be had with re-useable or swaged on fittings. With the exception of Aeroquip Aerospace, hose and fittings are interchangeable between brands.
Some countries, not the UK, insist on tests for brake hoses. The TFE hose assembly passes all the tests except the whiplash test which ensures that the hose is suitable for withstanding large wheel movements on vehicles doing hundreds of thousands of miles, quite sensible, but not relevant to competition motoring. Some hose specialists have recently come up with complicated assemblies allowing the hoses to pass the test, but generally speaking, they are not suitable for high mileage road usage.
These hoses are also suitable for oil pressure gauge lines, fuel injection pipes, power steering hoses and, because of their high temperature capabilities, on turbocharger oil feed and return lines.
Aeroquip TFE racing hose
Performance & dimensions.

Temperature
range -73°C to +232°C.

Pt No

Hose ID

Hose OD

Working Pressure

Burst Pressure

Bend Radius

FBC0300

0.13"

0.25"

3000psi

12000psi

1.50"

FBC0400

0.19''

0.30''

3000psi

12000psi

2.00"

FBC0600

0.32"

0.42"

2500psi

10000psi

4.00"

FBA0800

0.42"

0.54"

2000psi

8000psi

5.25"
Sizes. Available from -3 to -16 but only -3,-4,-6 and -8 are relevant to vehicle applications. -3 is used for brake hose applications, -4 for clutch due to greater fluid transfer requirements and for turbocharger feeds, -6 & -8 for power steering and turbocharger drains.
Aeroquip 666 Aerospace hose
Similar to above but made to closer tolerances and tested to Military standards. The Teflon liner is electrically conductive to prevent electrostatic failures, non conductive may be ordered. Available in -3 to -24 sizes. Only -3 is the same size as 2807/TFE and its imitators. Use standard fittings in -3, -4 requires different sleeve, so assembly has different part no, -6 and up have different fittings.
Fittings are also available with aluminium nipple (main body) and stainless socket and sleeve in - 4 and above.
Moquip TFE hose
TFE hose with stainless steel outer braid has many industrial uses and is manufactured as such in the UK and is compatible with Aeroquip and Moquip fittings, we offer such a hose because of its extremely competitive price and suitability for competition vehicle use. Available in all sizes -2 to -8 from stock. We can offer a PVC skin for this hose for added protection and easy wipe cleaning, available clear or coloured, -3 ex stock in clear. Skin must be cut back to take fitting
Fittings for 2807/ TFE racing hose, 666 and Moquip TFE hoses
The fittings are available in swaged or reusable form. Reusable fittings can be assembled using a vice and suitable spanner, use up to 3 times before replacing sleeve. Assemblies with swaged on fittings show a considerable price saving, most of the reusable fittings are available in swaged form, we will be happy to quote for complete assemblies.
Reusable fittings are three piece fittings consisting of a nipple (the main part), sleeve (olive) and socket (nut). Aeroquip manufacture a large range of "Super Gem" female fittings in mild steel, stainless steel and aluminium with stainless socket, the latter for 666 hose, but can be used on other -4 hoses by changing the sleeve.
There is a demand for specialised fittings not covered by the Aeroquip range, which are manufactured by us on our state of the art CNC machinery and supplied complete with the relevant Aeroquip sleeve and socket, we call these Moquip fittings. Fittings are usually mild steel, cadmium plated, but can be chrome plated. Stainless steel fittings can be supplied.
Last Revised: 16 November, 2001 . Copyright Think Automotive Ltd. All rights reserved.