Push on hose and fittings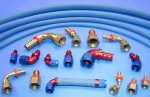 This is a textile hose with synthetic rubber inner tube, one layer of textile braid reinforcement and a synthetic rubber outer layer.
Assembly of hose to fitting is very simple, the fitting is simply pushed into the hose, this hose has the reinforcing braid woven in such a way that the grip on the fir tree type fitting increases as the force trying to push it out increases.
This hose has had a resurgence of popularity recently, especially since aluminium fittings were introduced. Some examples of this hose have a 150°C rating, however instances of the fitting blowing out of the hose at extreme temperatures have been reported on some makes (not Aeroquip), extra clamping should be considered where very high temperatures are involved.
This type of hose and fitting can be interchangeable between brands but only genuine Aeroquip assemblies can be guaranteed. We can provide a stainless steel braid covering for these hoses, this does not impart any greater strength only enhanced appearance and abrasion resistance, factory swaged ferrules or finisher such as a "Pro clamp ® " must be used to hide frayed ends.
Aeroquip FC332 hose.
Our recommended all purpose push on hose. Made in the USA. has a very pretty blue woven textile cover or more conservative black and the class leading AQP® high temperature elastomer liner. Complies with FIA regulations. Use for all oil, power steering return hose, also petrol, air and water.
Performance & Dimensions
Temperature range -49°C to +150°C. 250psi(18bar) working 1000psi(70bar) burst pressure.
Pt No
Hose ID
Hose OD
Max Vacuum
Weight
lbs.ft/kg.m
Bend Radius
FBV0400
1/4
.49"/12.4mm
28in/Hg
.08/.10
2.9"/75mm
FBV0600
3/8
.62"/15.7mm
28in/Hg
.12/.19

2.9"/75mm

FBV0800
1/2
.75"/19mm
28in/Hg
.15/.22

5.2"/130mm

FBV1000
5/8
.91"/23mm
18in/Hg
.20/.30

5.9"/150mm

FBV1200
3/4
1.03"/26mm
18in/Hg
.28/.36

7.1"/180mm
Aeroquip 1525 hose.
As above but with oil, mildew and abrasion resistant grey/black textile braid "furry" cover. Approximately 20% lighter than other push on hoses. Meets US coastguard flame test requirements.
Performance & Dimensions
Temperature range -49°C to +100°C. 2500psi(18bar) working 1000psi(70bar) burst pressure.
Pt No
Hose ID
Hose OD
Max Vacuum
Weight
lbs.ft/kg.m
Bend Radius
1525-4
1/4
0.52"/12.7mm
28in/Hg
.06/.09
2.5"/75mm
1525-6
3/8

0.65"/15.9mm

28in/Hg
.09/.13

3.0"/75mm

1525-8
1/2

0.77"/19.8mm

28in/Hg
.12/.18

3.9"/130mm

1525-10
5/8

0.92"/23.0mm

18in/Hg
.16/.24

5.0"/150mm

1525-12
3/4

1.03"/26.2mm

18in/Hg
.18/.27

7.1"/180mm
Fittings for "push on" hoses:
We offer 4 types of fitting.
1. The genuine Aeroquip product in plated steel, except their JIC straight fittings are brass, they have brass hose finishers for JIC, plastic red for BSP and black for metric.
2. The more cost effective but similar Moquip steel fitting with red plastic finishers for all.
3. Aeroquip aluminium fittings either red and blue anodised or nickel plated with matching finisher. The only fittings (red & blue only) in our range that are available in 120°,150° & 180° degree swept tube versions. In JIC only.
4. The similar Moquip aluminium fittings. 45° and 90° versions are of compact design with tight radii for use where space is limited. In JIC only.
Last Revised: 16 May, 2001. Copyright © 1997 Think Automotive ltd. All rights reserved.