One way check & breather valves
Flap & Disc Valves

Construction. anodised aluminium housing with either a disc valve or a flap valve.
Application. Disc valve has slight flow resistance but suitable for fuel systems. Flap valve has no detectable resistance to flow, more suited to high flow oil systems, the latter are prohibitively expensive but sometimes available on the surplus market at reasonable cost, therefore supplies tend to be erratic and prices may vary.

Tank breather valves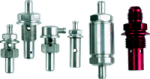 A range of fuel tank valves that allows 1)air in to replace fuel used, 2) air out due to heat expansion. 3) a positive shut off to prevent fuel escape, due to splashing or even roll over. This is achieved by a two ball system, one hollow plastic, one solid steel.
TBV45. A very small valve mainly used with our range of fuel caps when fitted direct to tanks it fits a 5/16" (8mm) hole, replacing a fixing screw, we can provide a specially machined cap flange. Takes 1/8"bore hose
TRV45. For fitting to tank through a 7/16" (11mm) hole. Access from inside the tank is required. Vertical vent pipe takes Ό" bore hose.
THV45. As above but with a horizontal vent pipe
TRV67. As above, but requires 9/16"(14mm) hole. Supplied with a weld on nut which can be welded/brazed to the outside of the tank. Takes 3/8" hose.
TRV86. The large valve for serious gas guzzlers. The body has a 3/4UNF thread, which can be bolted from underneath, or threaded into a weld on nut. Vent takes -6 JIC female fitting
TRL7. For in line fitting into Ό" bore hose, must be mounted vertically.


Last Revised: 06 November, 2001 . Copyright Think Automotive Ltd. All rights reserved.