Laminova water to oil coolers
The amazing Laminova laminar flow cooler has opened the automotive market to oil to water coolers.
Mocal oil to air coolers are:
Lighter
Cheaper
Less bulky for a comparable performance
The Laminova coolers:
Are resistant to crash damage.
Can be cleaned after a blow up.
Normally allow oil to get up to operating temperature more quickly.
Can be fitted anywhere.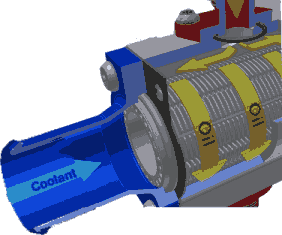 The main components, the outer shell and the core(s) are aluminium extrusions.
The cores, through which the oil flows,have, by some magical process, been machined to provide fins 0.2 mm ( 7 thou) thick and 3mm high and spaced 0.3mm (11 thou) apart, such restrictive finning would normally cause a huge pressure drop, but by introducing channels in the finning, the oil flow is kept laminar as opposed to turbulent as in other cooler designs and the pressure drop remains low.
The water flows through the centre of the core,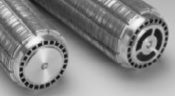 for most applications where the full pump flow is available (above 80 litres per minute)this works well, however where only a lesser flow is available as in by-pass installations e.g.the heater circuit on a road car is a by-pass, removable plugs/restrictors will force most of the water through the outer extruded channels
This construction is versatile the shell and core being made in 4 different diameters.
We stock the:
34mm core diameter cooler for low oil and coolant flows as in transmission, power steering and small engines.
39mm core diameter as above but economically priced.
43mm core diameter cooler in three lengths for most engine cooling applications.
54mm core diameter cooler in three lengths for more demanding applications also available with a further 37mm inner cores slotted in, for heavy duty engine cooling.

Waterside connections for 16mm, 18mm, 26mm, 32mm, 38mm, 42mm and 45mm bore hoses also -16, -20 and -24 SAE 37o (JIC) threaded unions.
Oilside male connections for -6, -8, -10, -12 and -16SAE 37o (JIC) also 3/4BSP are stocked, others to special order.
See new page for Dimensions of coolers.
Choice of size. The other attached page shows performance graphs. Performance is very much dependant on oil and water flows, information that very few possess, Our sales staff have experience of many installations and may be able to advise.
Think Automotive's main business is in supplying off the shelf cooling solutions, however the Laminova system is incredibly versatile. We can discuss specials where the options are:
The 43mm and 54mm assemblies can be made in an almost infinite lengths
The core can be supplied separately for inclusion in customers own housings.
The coolers can be supplied with twin oil inlets which will halve the pressure drop without affecting performance.
The coolers can be made double pass which will improve performance but increase oil and water pressure drops.
The shell and connections can be polished and anodised to special order.
The basic concept is also applicable to intercoolers (charge air cooling).
Last Revised: 21September, 2007. Copyright © 1997 Think Automotive ltd. All rights reserved.