Electric Fuel Pumps
Pumps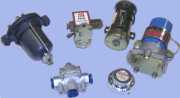 Our range of pumps covers all carbureted vehicle requirements. Electric pumps are used as cost effective replacements for existing mechanical pumps, for back up systems and in new installations.
Pumps should be mounted as low and as near to the fuel tank as possible, all pumps are more efficient when they are pushing not pulling, the solid state should not be mounted more than 12" above fuel level. Pumps should be rubber mounted if quietness of operation is desirable. Regulators should be mounted as near to carburetors as possible.
If greater flows or pressures are required, connecting pumps in series, i.e. the outlet of the first pump feeding the inlet of the second pump doubles the pressure. Connecting in parallel both inlets drawing from a common source and outlets feeding one pipe will double the flow.
Facet (Bendix) pumps.

Facet pumps have plunger operation and are sealed for life. The solid state pumps have no built in filter.

The "interrupter" pumps have replaceable filters. The only difference between the blue and red top interrupter pumps is the filter which is less restrictive on the blue, therefore more suitable for competition use.
Holley pumps.

Holley pumps have rotary sliding vanes and have replaceable parts including filters. The higher performance H802 pump is sold with a regulator whereas the H801 has sufficiently low pressure not to need one in most applications.
Weldon pumps.
Weldon pumps also have a sliding vane arrangement. We are European importers for this range, see their site for performance details. We currently stock their versatile all purpose pump, see oil pumps.
Regulators.
Holley regulators.

The regulator is also available separately. It has a painted aluminium body with three 3/8 NPTF female ports, one inlet and two outlets one of which may be blanked if not required or used as a tapping for a fuel pressure gauge / indicator. There are two types with ranges of 1-4 psi (H804) and 4½-9 psi (H803).
Pro-fuel regulator.

Chromed alloy body with 1/8NPTF female threads, supplied with push on fittings and hose clamps. Can be set from 1-5psi on calibrated dial.
Filter king combined regulator & filter.

A range of devices much touted as fuel saving gadget, for which purpose it is fairly useless unless set up with a pressure gauge in accordance with carburetor manufacturers recommendation, however the high flow version which we stock is worthwhile for competition use for those who want a combined unit.
Body of pressure die cast aluminium with neoprene membrane suitable for most fuels except methanol, adjustment 1.5-5psi .Inlet & outlet ports are tapped.1/8 NPTF as is tapping for pressure gauge take off. Aluminium bowl has washable metal filter.
Use on carburettor systems, not above 10psi.
In Line oil/fuel filters.
MOCAL filter.

Two part threaded anodised aluminium housings, unscrew to expose removable stainless steel filter, which can be cleaned. Supplied with 120 micron mesh, but 15 micron aerospace pleated filter is stocked, others available.
Essential on fuel systems to protect carburettor and fuel injection pumps, but also used as "last chance" filter to protect vital components e.g. turbochargers. Can be supplied in 2 different halves, e.g to join -6 to -8 hose. Negligible pressure drop when clean but must be inspected regularly.
Pro-filter.

Chrome plated steel end caps, glass housing with 40 micron plastic filter which may be removed for cleaning.
Use on carburetor systems, not above 10psi.

Last Revised: 16 May, 2001 Copyright © 1999 Think Automotive Ltd. All rights reserved.