Aero flush fitting caps

These flush fitting caps draw their inspiration from a fuel cap used on American world war two fighter aircraft. They soon appeared on Ducati motorcycles. Ferrari snapped them up for the F40 and they now grace the flanks of the worlds leading supercars including the Mclaren F1 and Jaguar XJ220. Designers of concept cars love it Ford Indigo, Renault Sport, Spider and Fiftie all make a statement with the Aero cap blending beautifully with their diverse designs. The design and finish of the cap are such that it is not only the appearance that attracts but the mechanism has a pleasing feel with a precise action.
The forged aluminium cap sits in a pressed aluminium flange sealed with fuel resistant O ring. Cap and flange are polished and anodised silver other colours are available Supplied with nuts,bolts and fibre gasket. Locking versions have two keys.
The caps are available in four sizes.
Diameter

of cap

Diameter

of cap

Fixing holes

& PCD

optional

rubber gasket

optional

built in funnel

optional

separate funnel

optional

fixing ring

optional

spill tray

4"/102mm

140mm/5.5"

12 x 4.75"/120mm

no

for 3.5" hose

no

yes

no

3"/76mm

120mm/4.7"std

8 x 4"/102mm

yes

no

for 2"& 2.25" hose

yes

yes

120mm/4.7"opt

9 x 4"/102mm

yes

no

no

yes

yes

140mm/5.5"opt

12 x 4.75"/120mm

no

no

no

yes

no

2"/51mm

95mm/3.74"

6 x 3"/76mm

yes

for 2"& 2.25" hose

no

yes

no

1.75"/45mm

80mm/3.15"

6 x 2.5"/64mm

yes

for 1.75" hose

no

yes

no
Fitting.
The cap was intended for in tank fitting but it is more usually mounted on the bodywork and connected to a fuel tank through flexible hoses. To achieve this we can supply with add on funnel in the large size or with flanges with built in funnels in the smaller sizes. We have a thick rubber gasket for applications where there is slight curvature of the mounting panel, the neck of this gasket provides a secondary seal around the cap. In situations where back access is limited, we have a ring with captive nuts, the ring is slotted to allow it to be fed into holes. Where the 3" has to be situated within the bodywork, e.g. in the boot, we can supply a rubber spill tray to which a ¼ " hose can be attached to redirect overspill.
Fitting kits.
We can also provide A range of fitting kits to enable easier fitting of the 3" aero flush caps.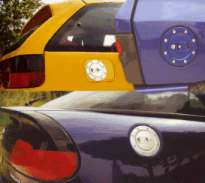 This clever concept uses a resin casting which fits into the filler cap recess allowing flush mounting of the cap to the car body, it also slips over the filler neck to which it is attached by a combined adhesive and sealant. The casting will require painting to match the car body colour. Subsequent removal would not be easy.



Last Revised: 16 November, 2001 Copyright © 1997 Think Automotive Ltd. All rights reserved.