Blue silicone rubber construction with smooth wipe down finish.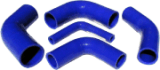 Temperature range -50oC to 250oC. Specials available to order include longer legs, reducing straights and elbows, wire reinforcing also special colours. Use as engine coolant hoses where increased hose life and resistance to high under bonnet temperatures are required also turbocharger and supercharger hoses, heating and ventilating ducts. High heat resistance, attractive colour and easy clean finish are the main attractions.
Last Revised: 16 May, 2001 . Copyright © 1997 Think Automotive ltd. All rights reserved.